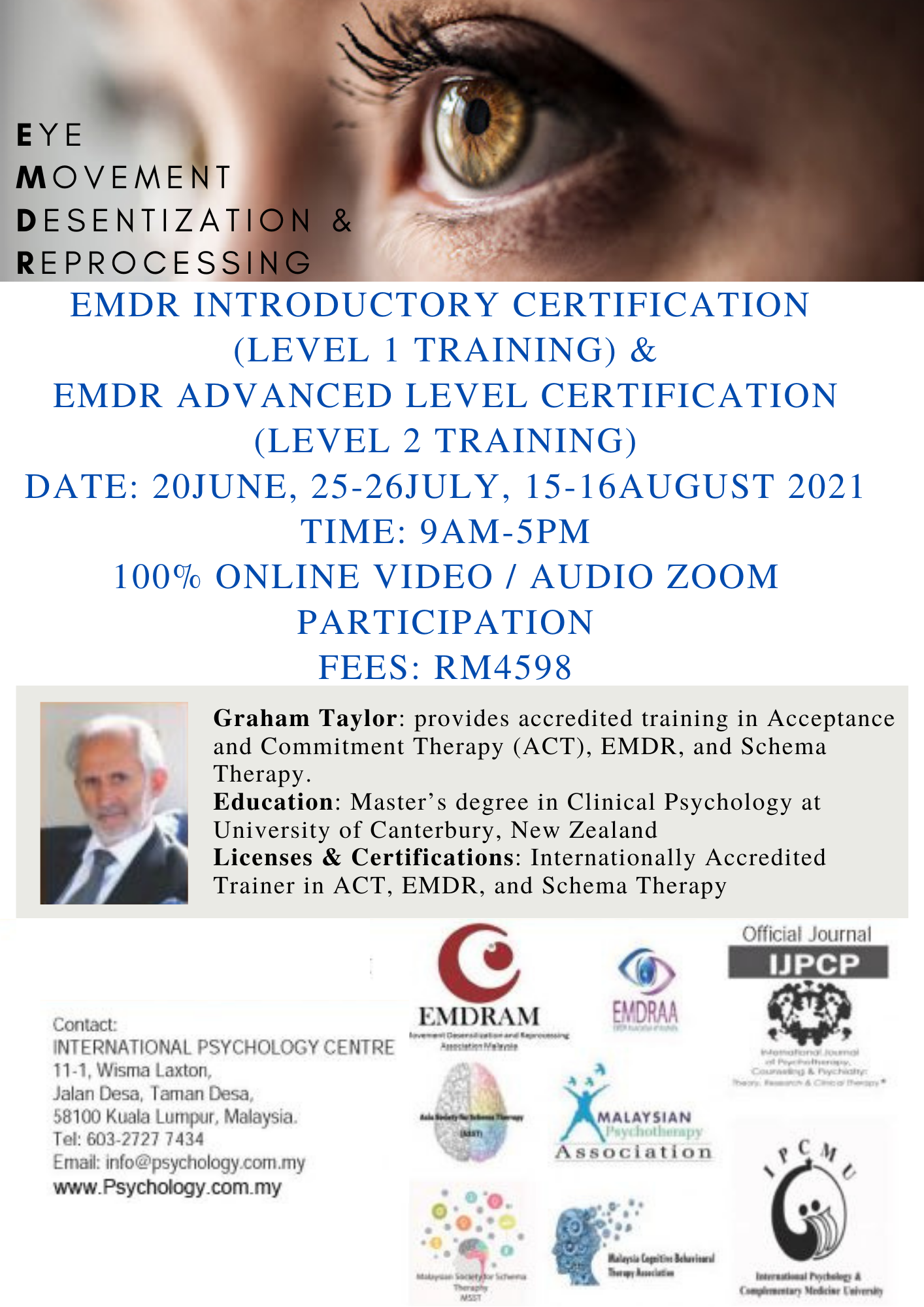 EMDR Introductory Certification (Level 1) +
EMDR Advanced Certification (Level 2)
Date : 20th June 2021, 25 - 26 July 2021, 15-16 August 2021
Time : 9:00am - 5:00pm (Australian Easter Summer Time)
Platform : Zoom
This will be an interactive and informative workshop that would enable psychotherapists, psychiatrists, psychologists, counsellors and others mental health practitioners to understand and gain clinical skills and knowledge for the practice of EMDR.
EMDR Introductory Certification consists of 3 days online workshop and EMDR Advance Certification consists of 2 days online workshop accredited by EMDRAM (EMDR Association of Malaysia) and EMDRAA (EMDR Association of Australia). They cover the introduction and advance skills of Eye Movement Desensitisation and Reprocessing (EMDR) which is one of the most scientically proven effective therapy to treat trauma & other psychological disorders. You must complete the didactic knowledge component prior to attending the workshop. This consists of a program of reading, recordings and videos which would be sent to you upon registration. Regular Q&A sessions are held via Internet meetings to assist you in covering this material. Includes six weeks of access to Case Consultation after each training level.
About the Trainer:
Graham Taylor
-He provides accredited training in Acceptance and Commitment Therapy (ACT), EMDR, and Schema Therapy. He also trains in DBT and mindfulness. He was previously a CEO and Principal Clinical Psychologist at Taylor, McCombe Hof, a group practice of Clinical Psychologists.
-Education: Master's degree in Clinical Psychology at University of Cantenbury, New Zealand
-Licenses & Certifications: Internationally Accredited Trainer in ACT, EMDR, and Schema Therapy